Benjamin Barber Beard Oil 50 ml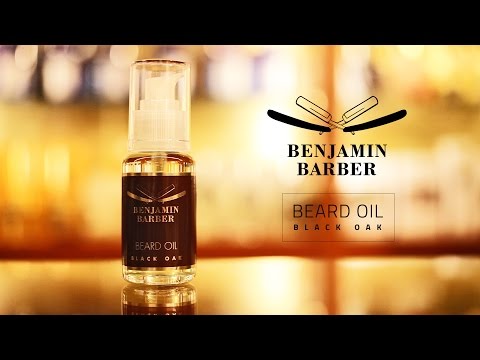 Benjamin Barber Beard Oil 50 ml
A premium beard oil from Benjamin Barber scented with natural fragrances.
Come in a practical pump bottle.
Comes in 3 editions
Black Oak: A sensual blend of tobacco, oak and leather mixed with dark, velvety notes of sandalwood and cedar.
Lime Pepper: A fresh, spicy scent with light, sparkling notes of lime and basil mixed with pink pepper and ginger.
Natural: An unscented oil which still carries the natural fragrances of its ingredients.
Volume: 50 ml
Customers also bought
What do others say?
Delicious smell and great feel.
OUD Benjamin Barber
Den bästa olja jag provat hitintills, doften är inte obehaglig och den varar under dagen.
Klart bästa skäggoljan !!
Har nu testat Benjamin Barber skäggolja Oud och den är fantastisk. Luktar orientalisk
Kanon med tanke på
Rabatten, skulle nog köpa den annars oxå.
Absolut bästa någonsin! Underbar doft!
Skulle varit tätare
Doftar sött, men manligt. Luktar nästan lite för starkt. Men den är helt underbar, skägget blir sammetslent!
Är väldigt bra tycker jag.
Är väldigt bra tycker jag.
För extra priset, klart bäst.
Perfekt konsistens och dryg!
Motsvarade mycket väl mina förväntningar. Rekommenderas.
Fin olje, men måtte bruke den noen ganger før jeg ble fortrolig med lukten. Nå er dette den olja jeg bruker mest.
Nöjd.Känns riktigt skönt i huden.Skägget doftar gott också (Lime)
Hmm även denna har blivit märklig , luktar lite unket efter några timmar vilket såklart inte uppskattas av varken sambon eller mig ..., de har inte varit så här förut , kanske har man haft otur med dålig bitch ... grym olja annars något dyr kanske
Benjamin barber är bästa oljan för skägget.
Meget bra lukt/aroma men noe tynn og kortvarig effekt
väldigt trevlig doft, plus för att den är ganska lättflytande, gör den enkel att applicera
Skjegget ble mye mykere og behageligere. Liker lukten (Black Oak), ikke for kraftig duft.
Nice doft , föredrar nog Oud framför Black Oak
En av de bästa märken på marknaden!
Personer på arbetet tycker jag luktar gott
Bra olja,prisvärd, god doft
En av de bättre oljorna som jag har köpt
Helt underbar samt luktar gott
grym fruga gillade den får lita på henne när det gäller lukt. eftersom jag har noll i luktsinne efter en op.
Luktar väldigt gott men måste vara försiktig med doseringen. Lätt o ta för mycket o huden blir inte så glad.
Är helt ok till det lilla skägg jag använder det till
Den bästa jag har provat. Ett fast val nu mera.
Bästa jag har köpt mina utslag är nästan helt borta
Härlig doft och effekt
Jag har köpt denna olja flera gånger och har den dagligen i skägget. Tycker skägget blir mera följsamt och mjukare av oljan. Doften black oak gillar jag och ger en lång not av doft hela dagen.
Luktar gott och skägget blir mjukt
Bra, känns lite tjockare i konsistensen än flera andra jag provat och det gillar jag då jag tycker den stannar i skägget och har en mjukgörande effekt längre tid under dagen än dom rinnigare oljorna.
Fantastisk doft, en favorit.
fornøyd, men kunne gjerne vært litt kraftigere duft på denne:)